11/22/21 - Opening Weekend is 5 days away! We have lots of trees this year! Come hunt down your favorite one, then join us around the fire for some complimentary hot cocoa or coffee while we bail your tree and tie it down to your car.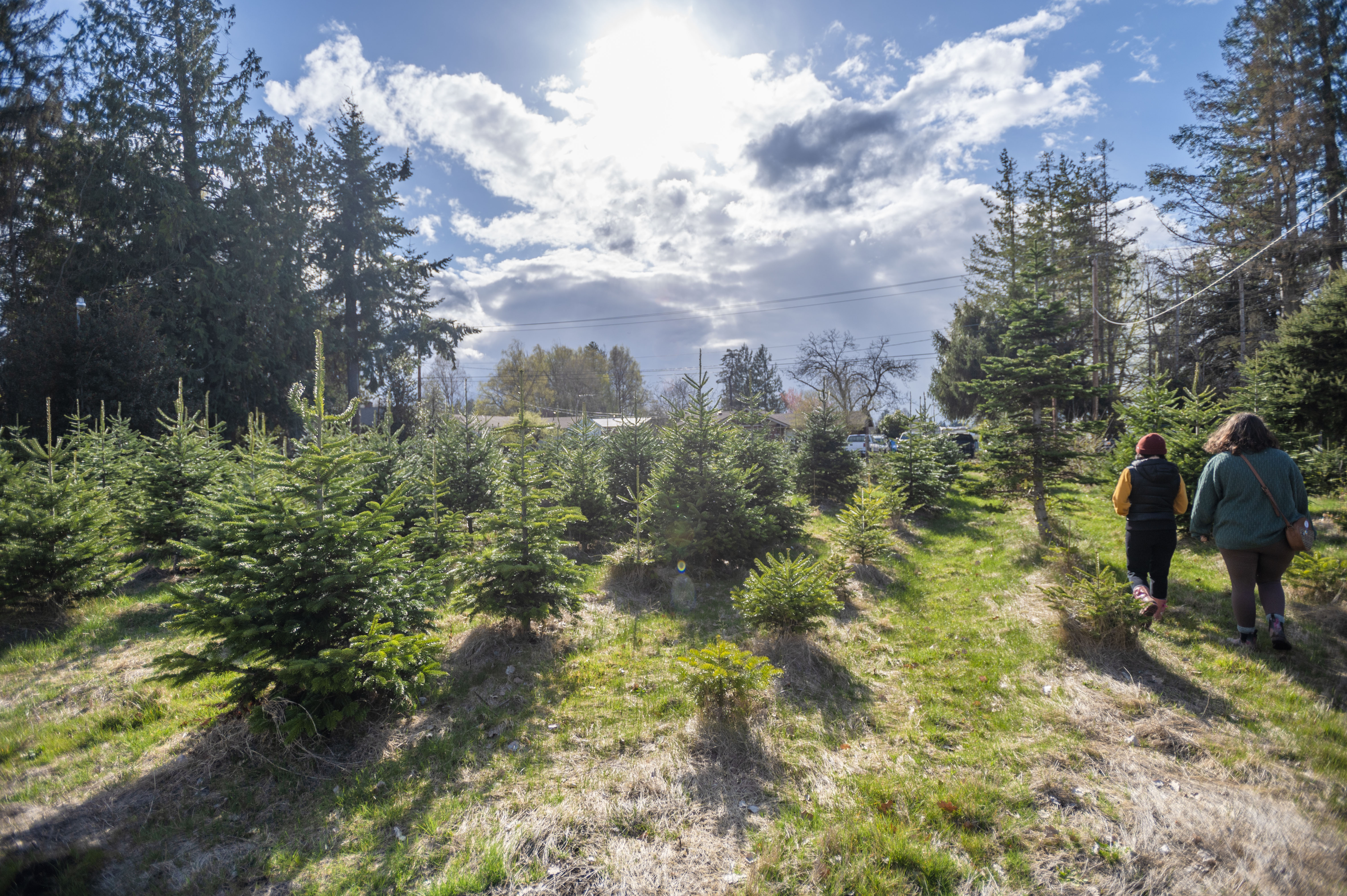 11/01/21 - We are open this season! For two years, the family Christmas tree farm was out of commission while we underwent a transition. The farm has been passed down to the next generation, and is for the first time, women-owned. We are still catching up on two years worth of farm work, but are extremely happy to be open again! We hope to see you all this year.

11/28/20 - We are missing you all this weekend! The trees are in really good shape for next year. We appreciate your patronage in the past and look forward to sharing the Christmas Spirit again in 2021!
10/25/20 - Seasons Greetings!! We have good news and other news for the year. Good news is that another generation has moved into the farm house and is looking forward to a prosperous future for the farm! The other news is that we will most likely miss this Christmas tree season. With a little luck and help from God we hope to join you again for the 2021 season. Wishing you all happiness and good health in the Joyous Holidays ahead!
11/25/19 - The Grinch stole Christmas!! There is actually a family emergency so we will not be able to open this year! The good news is we expect to be back next year. Here's hoping your Holiday Season treats you well!

11/17/19- There's a nice crop of fresh green trees out there! Our season looks to include two popular weekends from Saturday, November 30th through December 8th, 2019. Come early for the biggest trees!

9/9/19 - September rains bring out the Doug Fir shearer!

11/28/18- Our customer loyalty is the best! It is with that in mind that we have come to the conclusion that in order to preserve a quality experience for all we must close the fields for the year. A combination of wet winters and springs combined with record heat and drought have made for challenging growing seasons. We will continue to do our best with the conditions God gives us and work diligently with other local growers to try and produce the best crop for our customers in 2019. Thank you sincerely for your patronage.
11/26/18- What a great weekend to start the season. Lots of stories around the fire and pleasant reminiscing about the years blessings. Big trees too!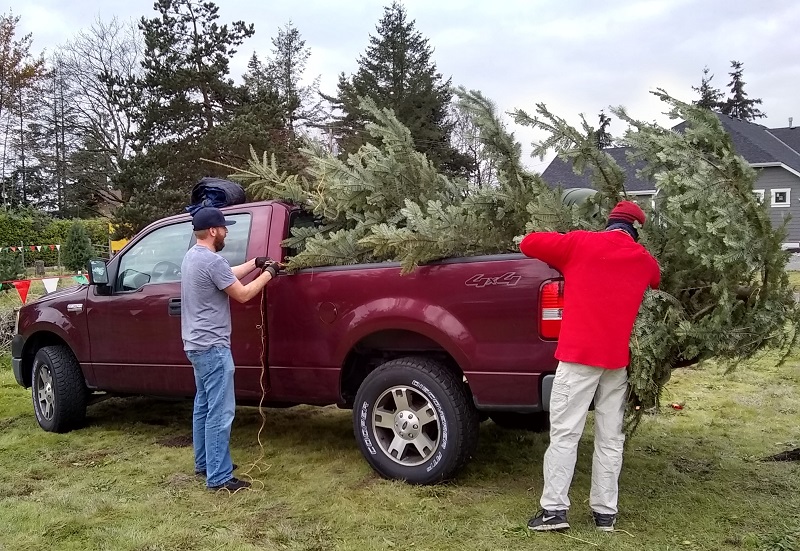 11/23/18- Things are pretty well dialed in around here. Can't wait to see everyone tomorrow!
11/7/18- With summer's sun we've got some "Golden Turks" but lots of trees to choose from. We'll open a day later than usual on November 24th (Saturday) and close after 10 days on December 3rd (Monday).
11/6/18- For the first time we've tagged most trees we expect to send off to good homes!

9/6/18- Wow it's been a hot, dry summer! We've been watering trees and doing our best to bring you a green holiday season.
12/12/17 - Thank you for your patronage in 2017, we'll look forward to your visit again next season!
12/8/17 - Join us for the last weekend!
12/5/17 - We've been through two big weekends and we're still sending out big trees (well all sizes, we try not to discriminate)! How about this one!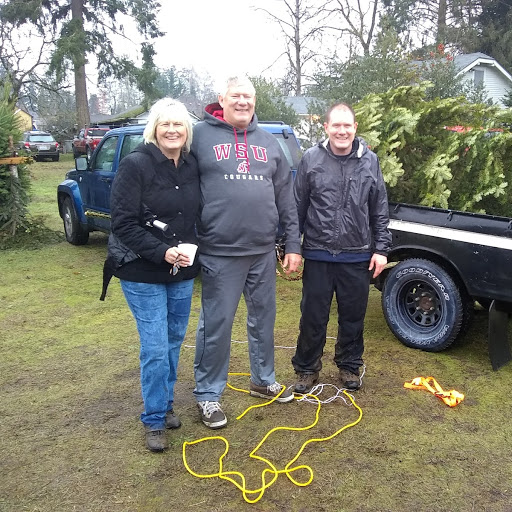 11/24/17- Opening Day was fantastic! Big trees came out all day long. Check out this Ford and it's big load!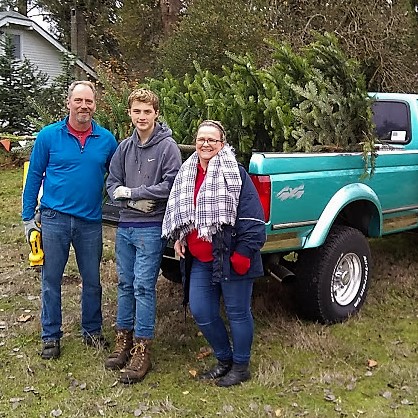 11/22/17- Friday 9:00 opening, excited to see everyone!
11/17/17- Thanks to our friend Bob we have a nice selection of pre-cut Nobles to offer again this year.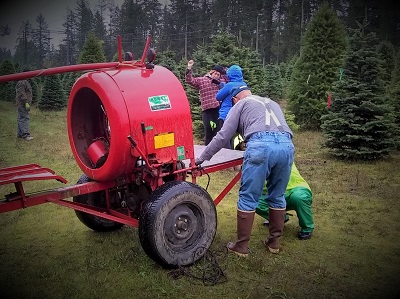 Be the first to see them Friday after Thanksgiving!
11/5/17 - Looking forward to seeing everyone this season! We've got a great selection of Grand Fir, Turkish Fir, and the Douglas Fir are back!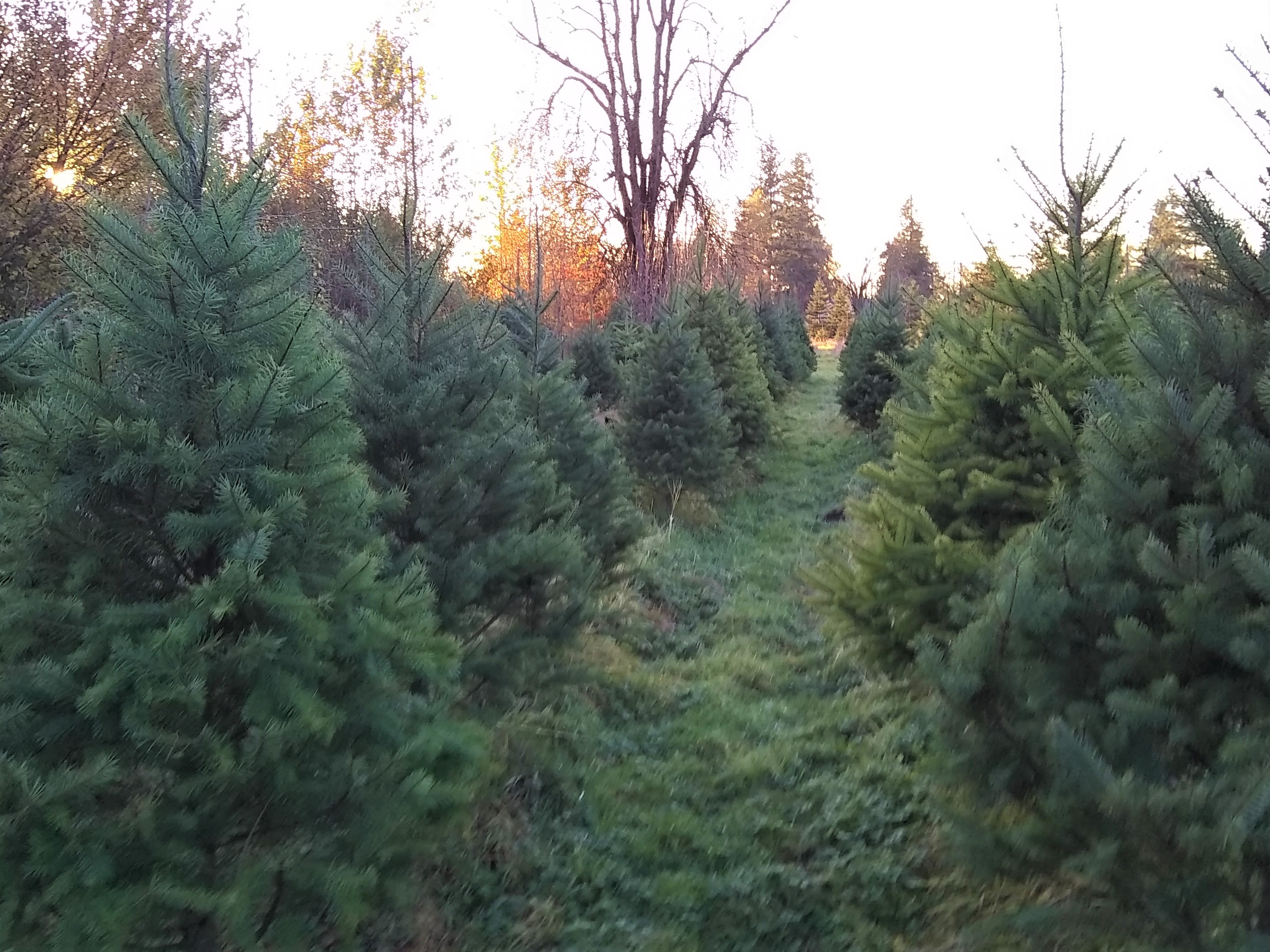 We'll be importing some Noble Fir for you traditionalists so come and see us beginning the day after Thanksgiving (Green Friday:)) and we'll be sure to keep the trees fresh for you!
12/19/16- What a great weekend! Thanks to all who joined us and we look forward to seeing you all for the 2017 season!
12/14/16 - Wow! We're three weekends into the season and we've still got great trees (photos above are of current inventory)! I went out this morning and came up with this inventory including over 300 good trees:
Turkish Fir - 150 trees including 60 in the 6-8' range
Grand Fir - 94 trees including 43 in the 6-8' range
Douglas Fir - 70 trees including 19 in the 6-8' range and 48 in the 5-6' range
We will be open Friday 11 am to 5 pm; Saturday and Sunday 9 am to 5 pm. Come on out and join us, you'll be happy you did!
12/4/16 - Another great weekend of tree fun was had by all! Today it was fabulous seeing the snow to begin the day and it set the stage for lots of folks to come out and join us for more Monday fun. We've been open midweek since the opening weekend but will close this week temporarily Tuesday, Wednesday and Thursday then open back up Friday for the rest of the weekend. People keep telling me, "we had a few trees in mind when we agreed on this one!" Fortunately I'm seeing really good trees still coming so let's have another!
11/29/16 - What a fantastic opening weekend once again! Great to see so many familiar faces and hear the caroling of our Emmanuel Presbytery group. Life as it should be... welcome to our good ole fashioned world! Lots of great trees waiting for wonderful families, come and join us midweek too! Check our "Hours" page for details.
11/24/16 - Happy Thanksgiving! Things look great out in the fields and we're anticipating the warmth of old acquaintances on Friday! No stress here just gold ole' family fun!
10/15/16 - We will open as usual the Friday following Thanksgiving weekend. Looks like we may only be available the first couple weekends so plan to come early and enjoy your tree for more of the holidays.
12/23/15- Thanks for another great year! We anticipate opening the day after Thanksgiving 2016.
12/12/15 - Did an inventory count (see current photo gallery above) and didn't even have to get into the back field before deciding that we will definitely be open starting Friday December 18th and through the weekend! Lots of great Grand Fir and Turkish/Nordmann Fir trees. Hope to see you soon!
12/10/15 - Great trees still coming out of the field!

Our inventory of Grand Fir and Turkish/Nordmann Fir (like Nobles) is still very good. You may have noticed the rain... bring your boots, were open!!
12/4/15 - The last week has been so busy it's hard to keep up! Great trees coming out of the field on a daily basis. Can't wait to see the rest of you soon!
11/24/14 -

With a new front fence and the display area full we're almost ready for you to join us!
9/14/15 - We have weathered the drought nicely and the selection of trees have matured into a group that will feel right at home in any house. Come join us beginning the traditional day after Thanksgiving, November 27th, 2015!
12/15/14 - Our excellent inventory we will allow us to continue offering trees through the weekend of December 21st and 22nd.We have a very nice selection of Grand Fir, and Turkish Fir that would make any home a more spirited place! Also available are several premium pre-cut Noble Fir at the racks up front. We hope to share some Christmas joy this week (open weekdays 2-5) so stop on by!
12/6/14- It's always amazing to see some of the massive trees that come out of the farm.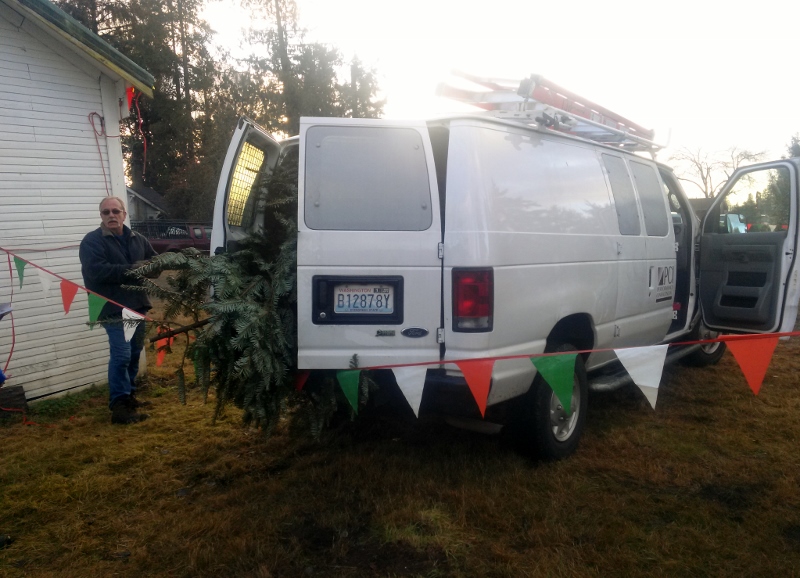 Look at the cute little Douglas Fir you can find too:)
12/1/14- Another fantastic opening weekend! Lots of great people and trees! Come on out and see us!

11/29/14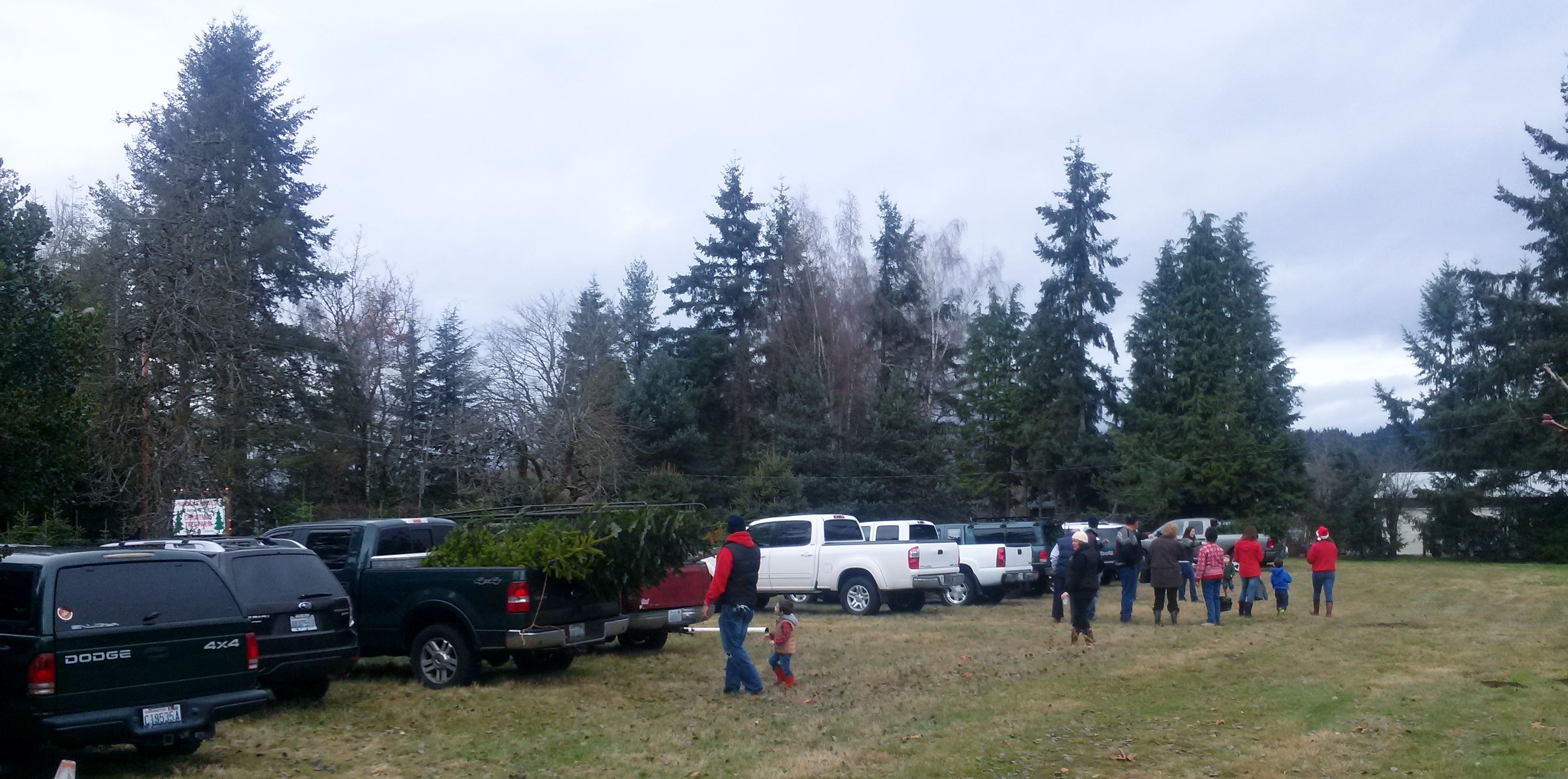 - Snow! It's feeling like a white Christmas!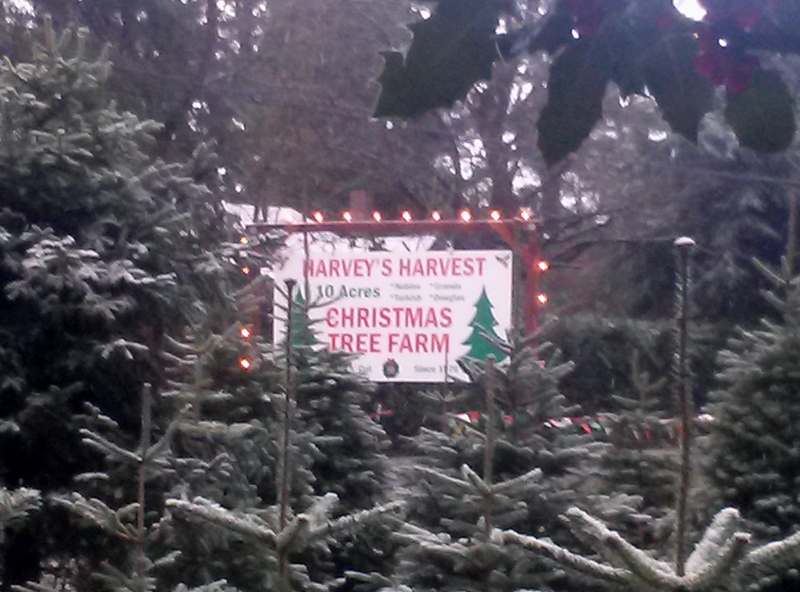 11/27/14- Things look great for opening day. Hope everyone had a wonderful Thanksgiving Day. We enjoyed a nice rainbow and consider it a good omen for the season:)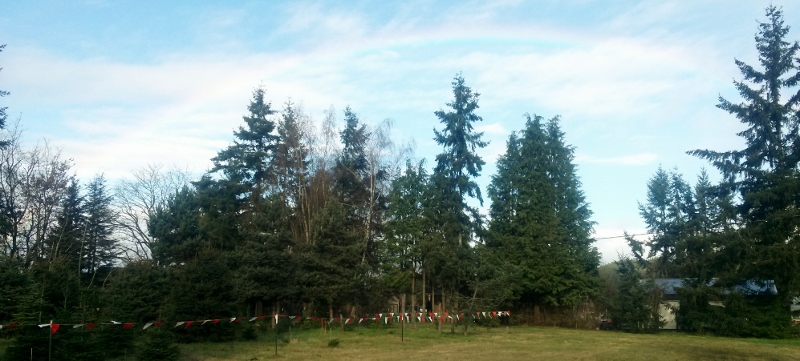 11/1/14 - The fields are in great shape and full of trees looking for good homes! We'll open the Friday following Thanksgiving as usual. Anticipate a season similar to last years which had us open three weekends and a few weekdays following. Come out early for the best selection! Seasons Greetings!

12/17/13 - Well we've had three great weekends with lots of new customers joining our regulars for some jolly times and ho ho ho! We'll look forward to seeing you next year. Here are some photos to remember the season by.
Seasons Greetings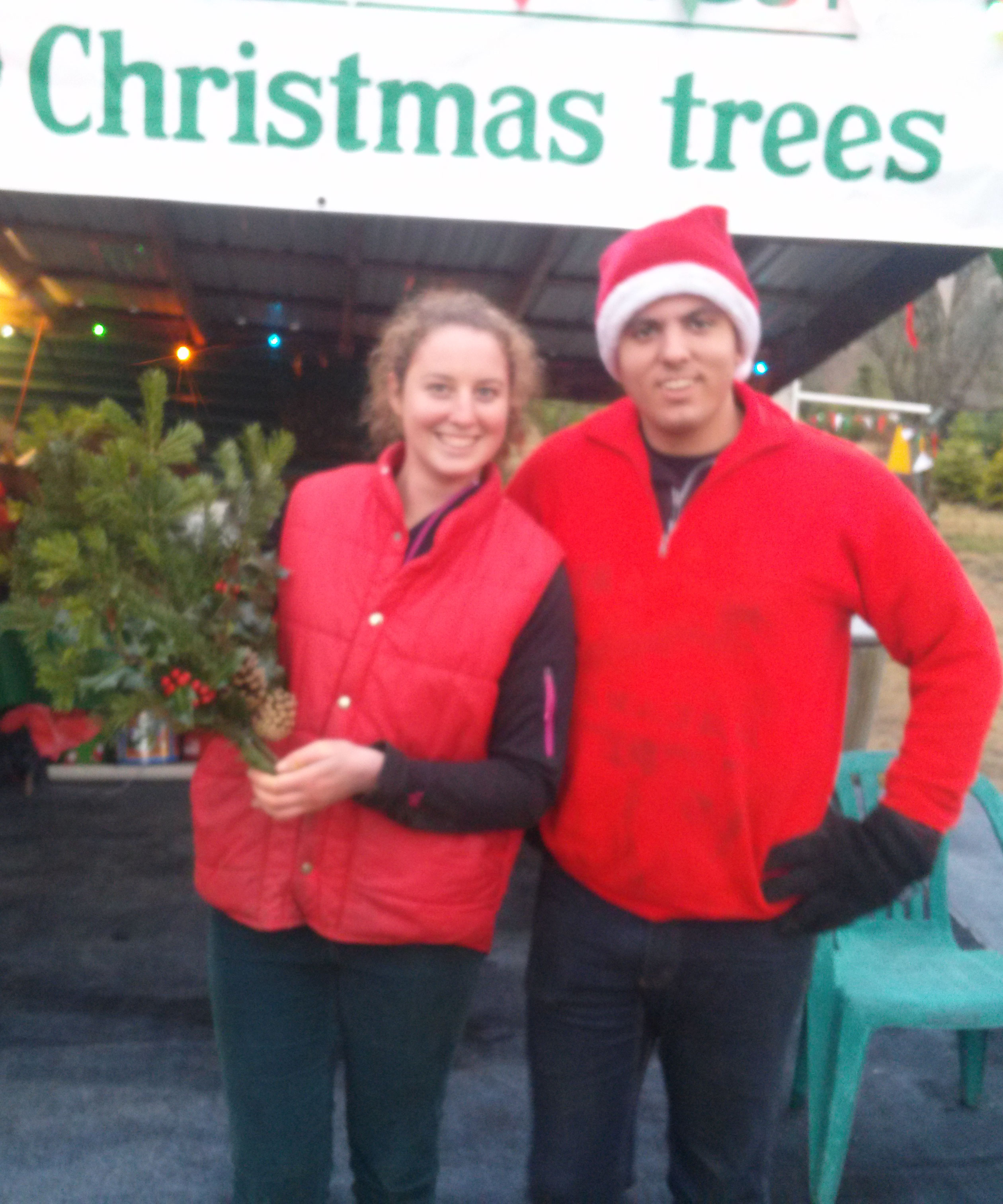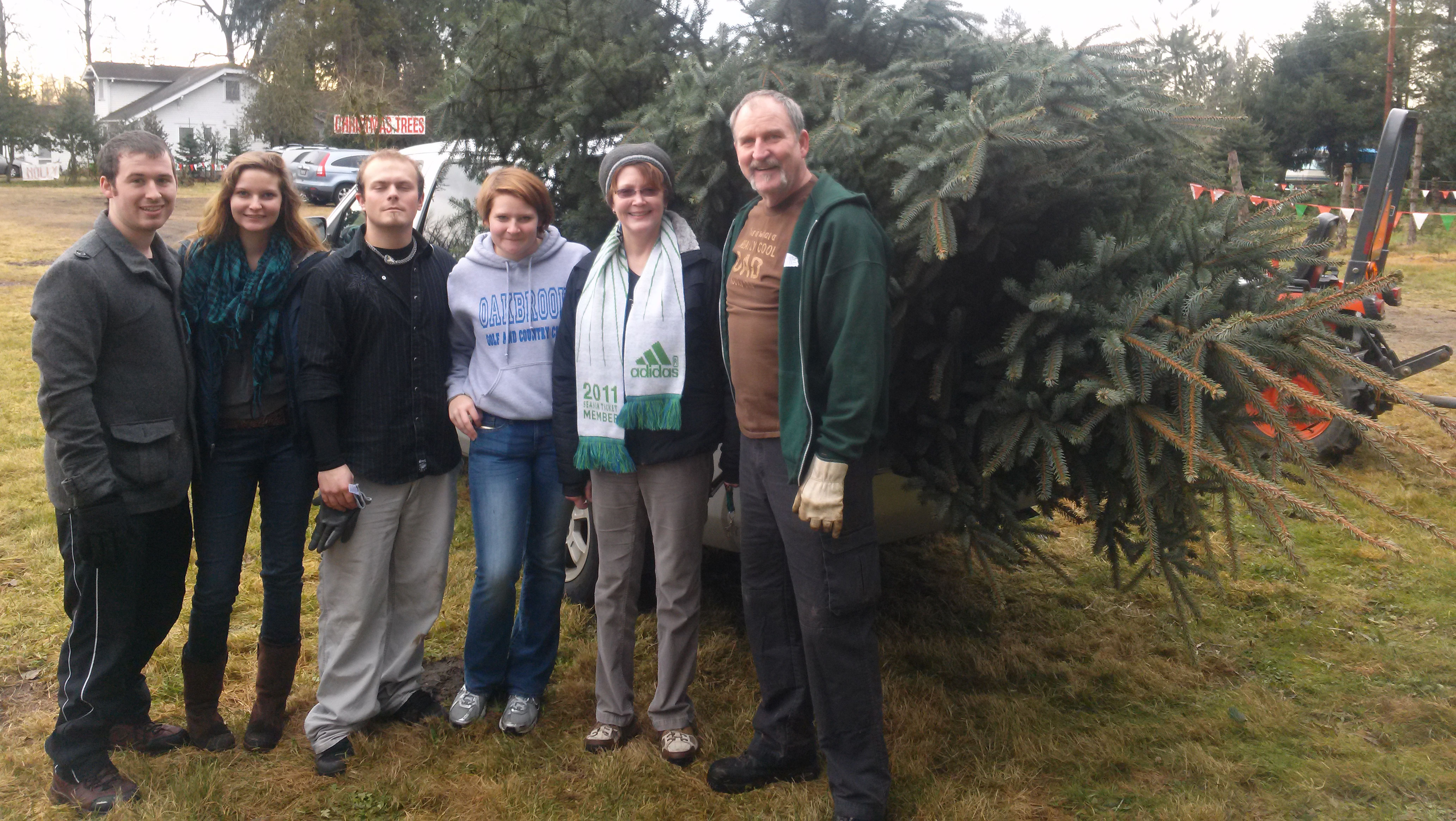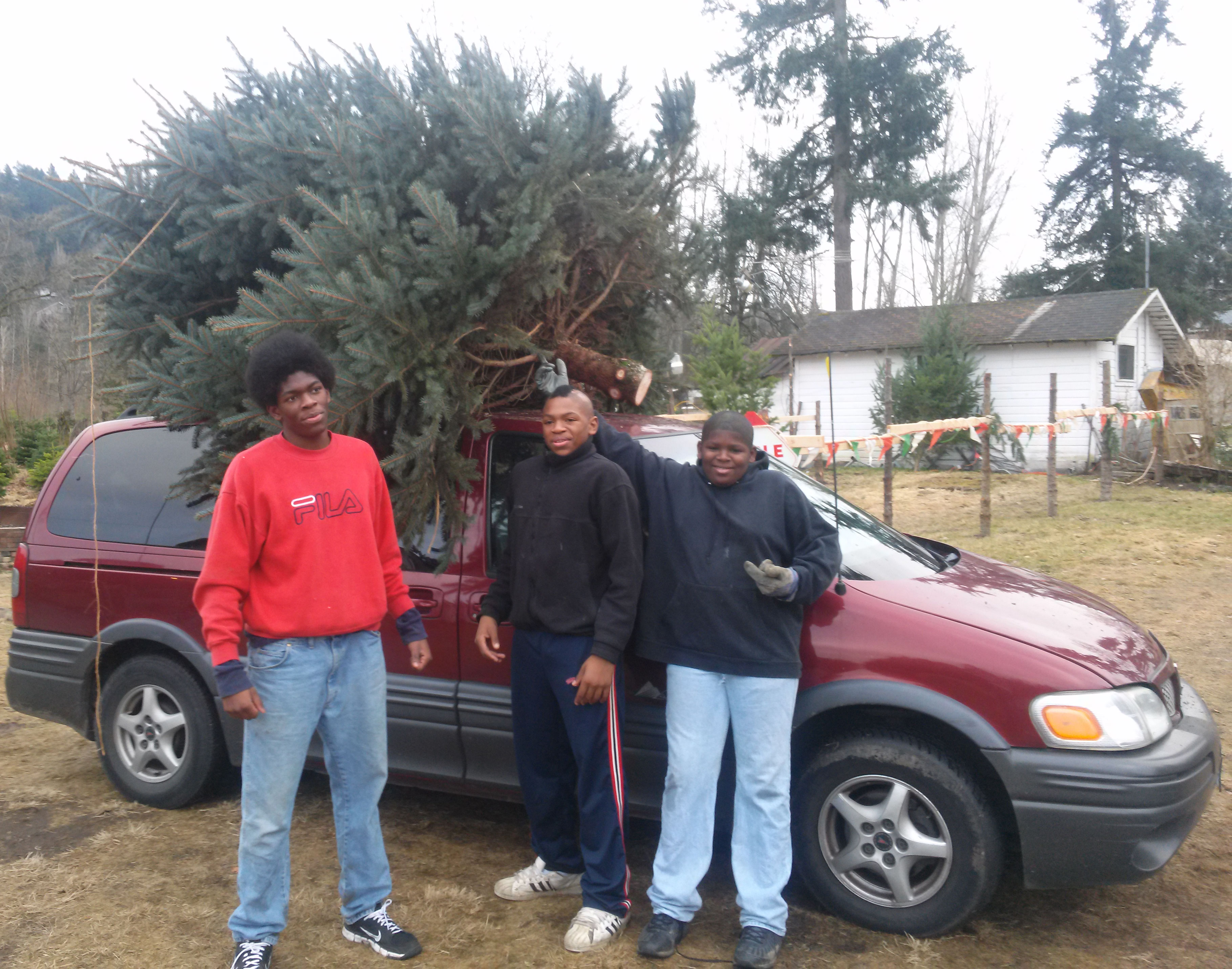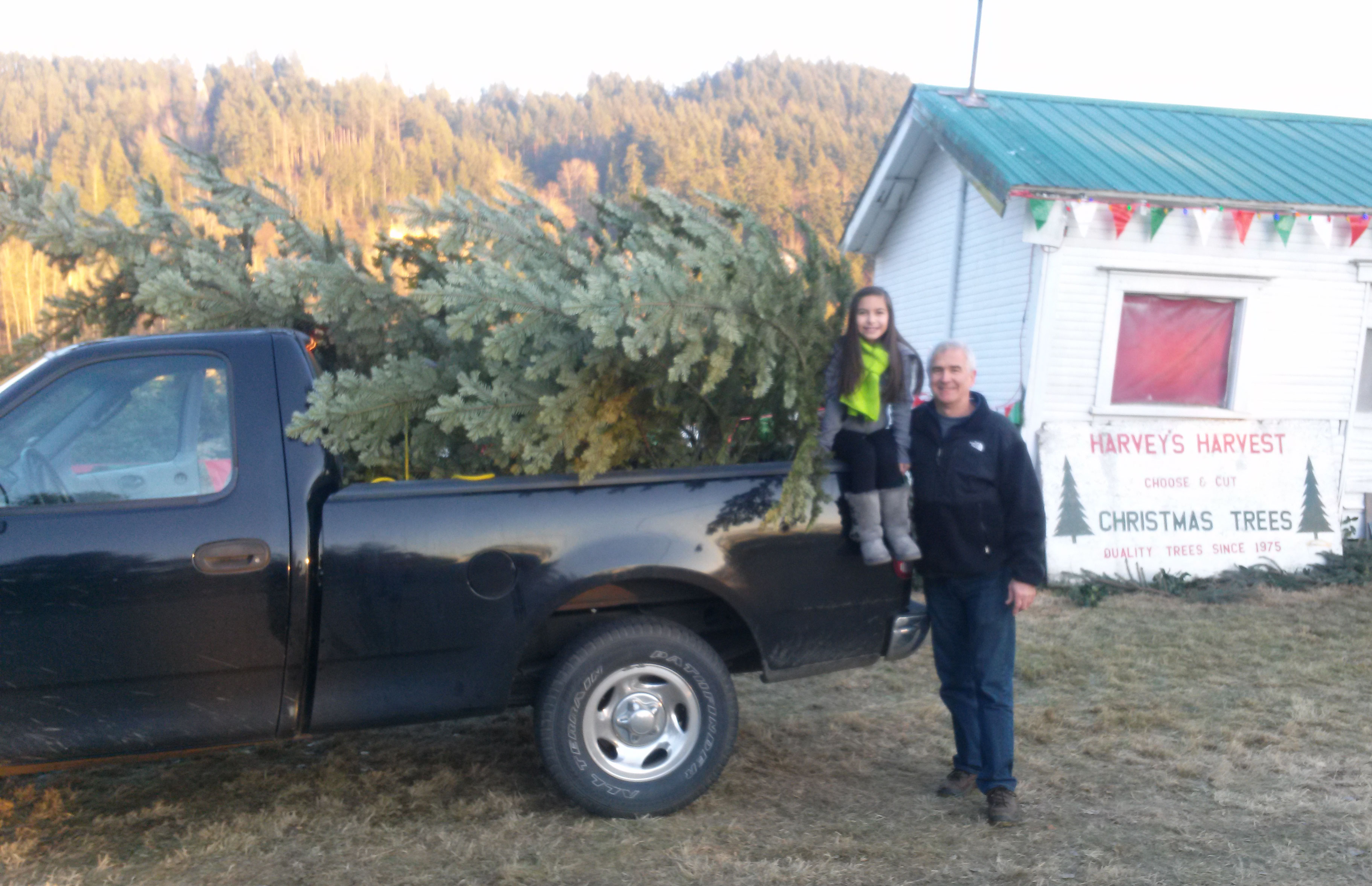 12/10/13 - It's always so great to see old friends!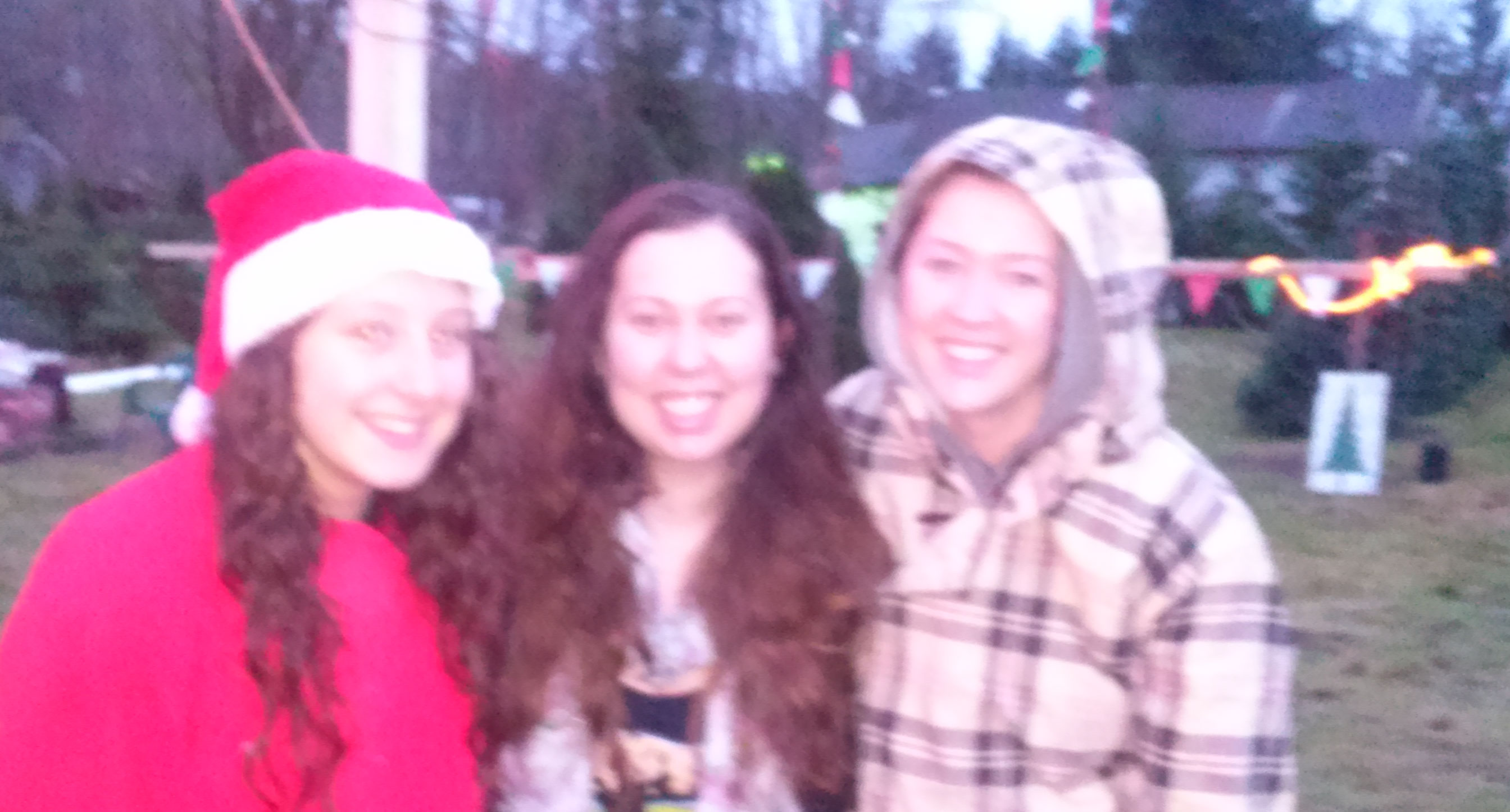 Our first two weekends have been the best in recent history and the weather has cooperated nicely. I'd like to personally thank Lynette from our opening day church group for finding us The Two Evans! I can't say enough about how helpful it has been to have them around.

We also added more inventory in the pre-cut sales area to supplement trees in the field so please come join us for what I believe will be our last weekend of the season December 14th and 15th.

12/2/13 - A fantastic opening weekend! Great to see so many familiar faces and introduce even more new custo
mers to the field. More Turkish (Nordmann) Fir than ever are flowing from the fields into happy new homes. We're excited to have a couple gentlemen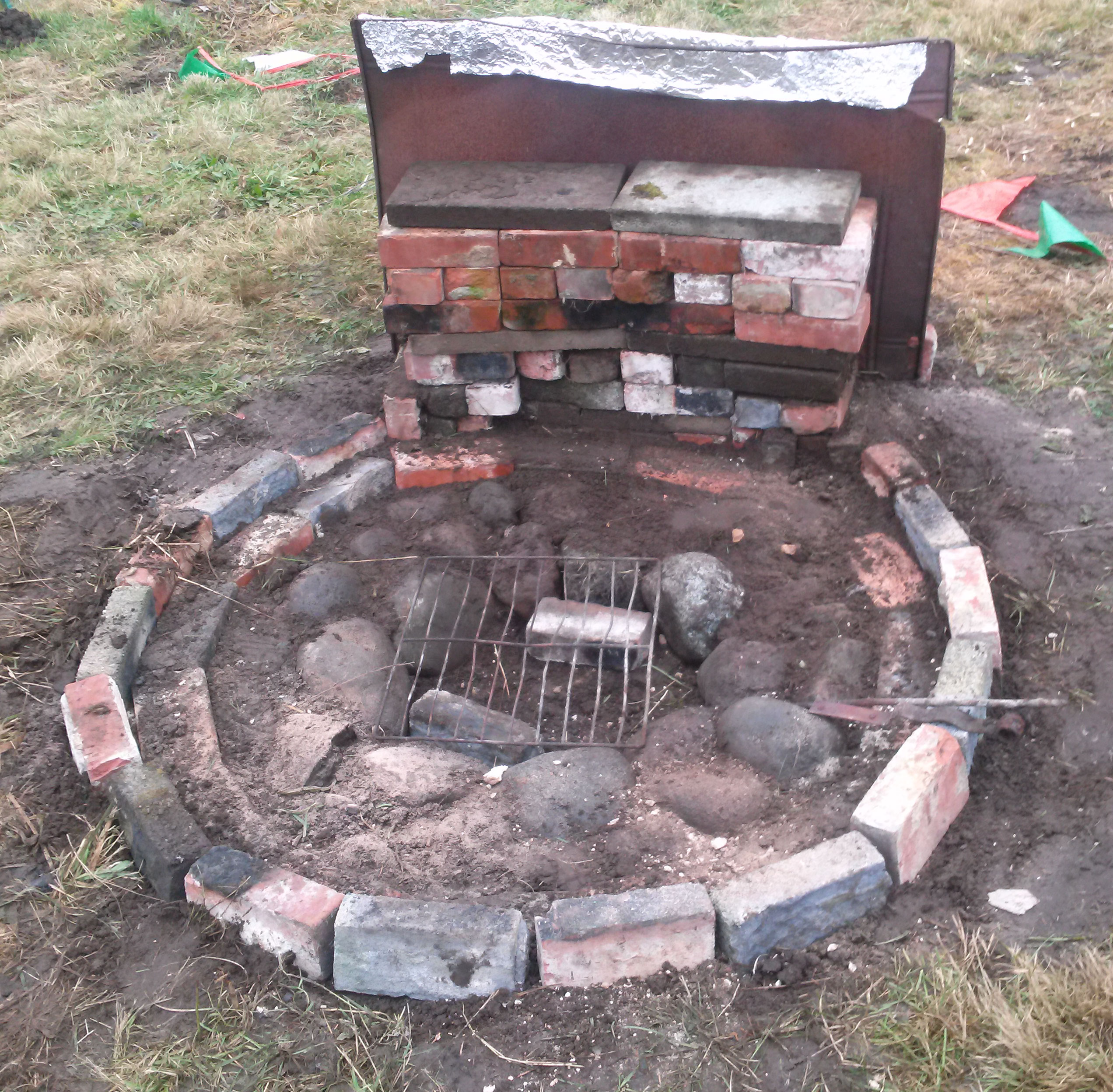 from the University of Puget Sound helping with customer service. The season started with a brand new display area for our fresh cut supply of Noble and Doug Fir, and thanks to Evan "The Square" a new fire pit that we can't wait to show off. Come on out and join us for a hot cup of cocoa and a marshmallow to finish your outing!

11/17/2013 - The summer was great to us and our fields will all open this year beginning the day ofter Thanksgiving as always. We'll be bringing in some extra fresh cut trees of all varieties that has become part of our tradition so expect lots to choose from. For a sneak peak at the fields visit our farm tour page for some YouTube videos.

12/6/12 - Another fantastic year! We will be closing December 7th, 2012. See you again with lots of fresh grown trees in 2013.
12/1/12 - what a great day it turned out to be. Had the church over for the annual affair and everyone came and went happy. Saw so many great, and big Grand Fir going out. The Turkish remain very popular and we still have some beautiful and full pre-cut Noble available up to almost 10'. Come join us for another great day tomorrow.

11/30/12 - It was a great first weekend! This week we picked up some more pre-cut Noble Fir and have a few pre-cut Douglas Fir left. We expect the Douglas Fir in the field to sell out this weekend so come now for the best selection. We have a lot of the Turkish Fir (a Noble's cousin) available throughout the fields and a nice selection of Grand Fir. Hope to see you this weekend!

11/11/12 - WOW what a weather year it's been! Remember the ice storm? Remember that long rain soaked spring when we set a record for a wettest time period. Followed by the "Best Summer" ever when it never rained? We're doing what we can with what God has given us and it looks like a little shorter season again. We will be open only three weekends this year. Thanksgiving weekend is our opener and comes very early, November 22nd, and we'll be open every day through the weekend of December 6th and 7th. If you would like to pick and pay for your trees then we may be able to make arrangements for a later pickup.
12/12/11 - Well it was an outstanding weekend of sales and really has been full of wonderful people enjoying great weather. We at Harvey's strive to offer the finest in guaranteed fresh trees and so reluctantly will be closing for the season. We look forward to cultivating another banner crop for next year and can't wait to see you all again then. Happy Holidays to all!

12/9/11 - Amazing. That's the second huge Grand Fir to go out in two days! The other one needed a car trailer (look for photos next week in the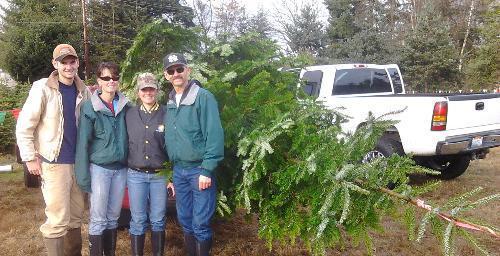 Tribune). Just got another load of fresh cut premium Noble Fir from Mossyrock. There are several over 10'. Come get em while you can!

12/6/11 - WOW! We've seen a lot of our loyal customers return to find their family's favorite tree. It's nice to see so many great trees going to very good homes for the holidays.

11/20/11 - Looks like another La Nina year but we seem to be escaping the pre-season snow storm that struck last year. That's good news for us as it let's us prepare to greet you. Everything is in order and we're looking forward to seeing you again! We'll have the fresh cut Nobles ready for you early birds and that tree you picked out as you were leaving last year is full and ready for you to take it home. Seasons greetings from the Irle's!

12/20/10- Roger "Harvey" Irle is quoted in another News Tribune Article today:
Roger Irle, who owns Harvey's Harvest Christmas Trees outside Sumner, said he gets customers through Christmas Eve.
His operation is the oldest of its kind in the valley, dating back more than 30 years, he said. It gets its name from Steve Harvey, a Washington State University agriculturalist who started the business.
About 500 customers come every season, Irle said.
Joyce Kalivas-Griffin and her husband, Rob, are usually among them. The Tacoma couple discovered the farm a few years ago and have become faithful customers.
They have a large collection of Christmas ornaments, "so we have to have a big tree," Joyce said.
"We love it here," her husband said of the farm. "(The trees) are very good."
It's not just the variety – from Douglas fir to Colorado blue spruce – that attracts people, Irle said. There's something about being outside, about kicking off the Christmas season with a special family tradition, he said.
"People are here for an experience," he said, "not necessarily a tree."
We've had a great season and will be here and open until Christmas eve!

12/1/2010- A great opening weekend! Tomorrow we will receive our supplemental supply of fresh cut Noble Fir from our friend in Mossyrock. He tells me he's bringing a couple 12-14' trees and we will have a nice supply of 8+ foot trees as well. Our supply of big Grand and Douglas Fir in the field is fantastic! Remember to print an "Identify Your Tree" chart for easy reference.
11/26/2010- WOW! One of our biggest opening days in years. Come on out and join us while our inventory is at it's greatest!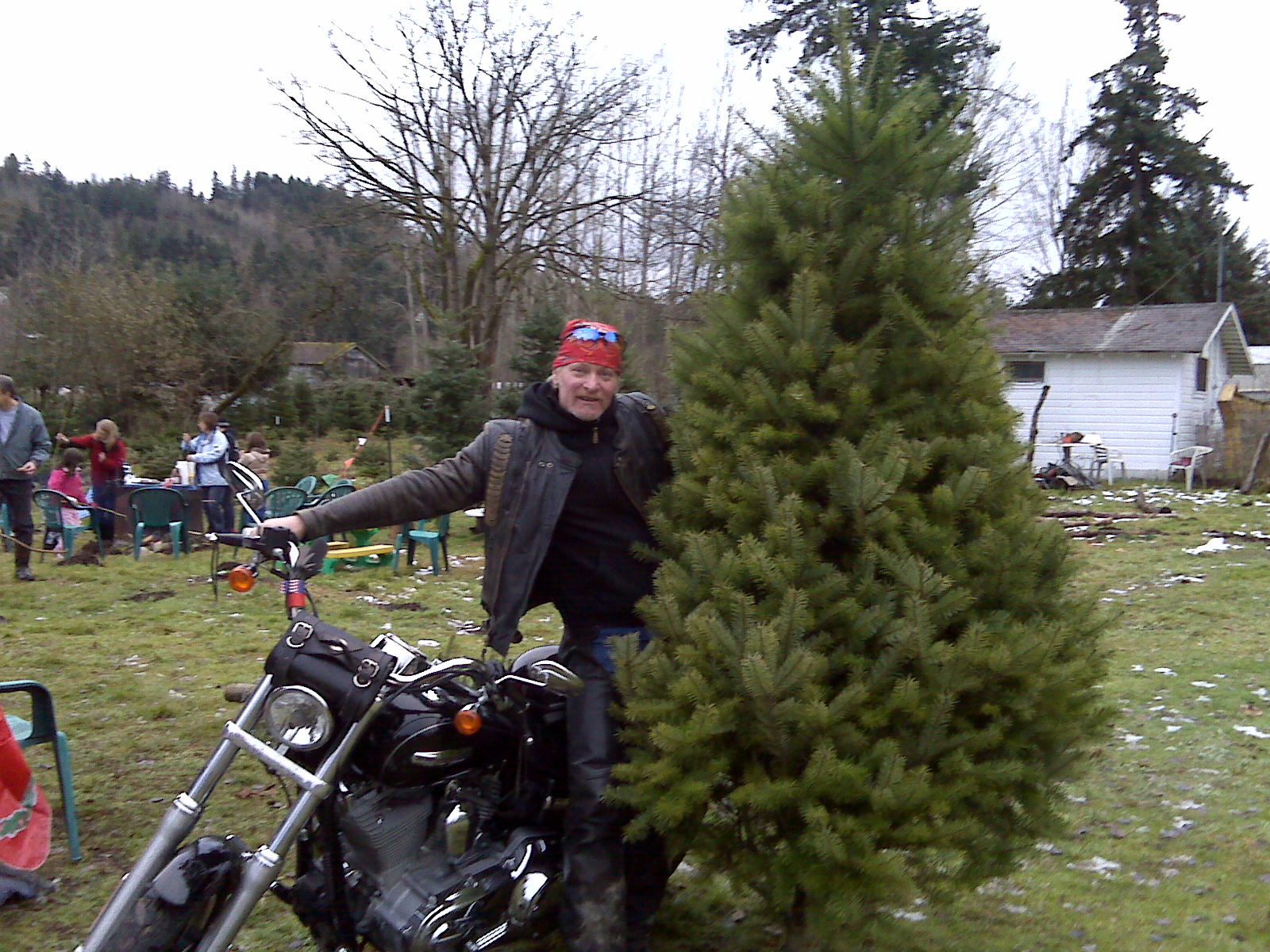 11/23/10- Naturally flocked trees - the snow looks spectacular! Our trees are all natural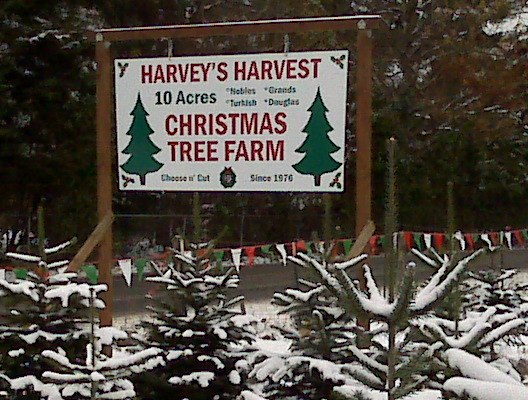 l so please know that once the snow melts they are green again!! We are looking forward to seeing you all soon! You can print your own "Identify Your Tree" chart for easy reference to which trees are where in the field.
10/1/10 - Field is looking great! Improved
drainage and lots of new trees.

12/14/09 - The crew had a great time and will see you next weekend one more time if you're a believer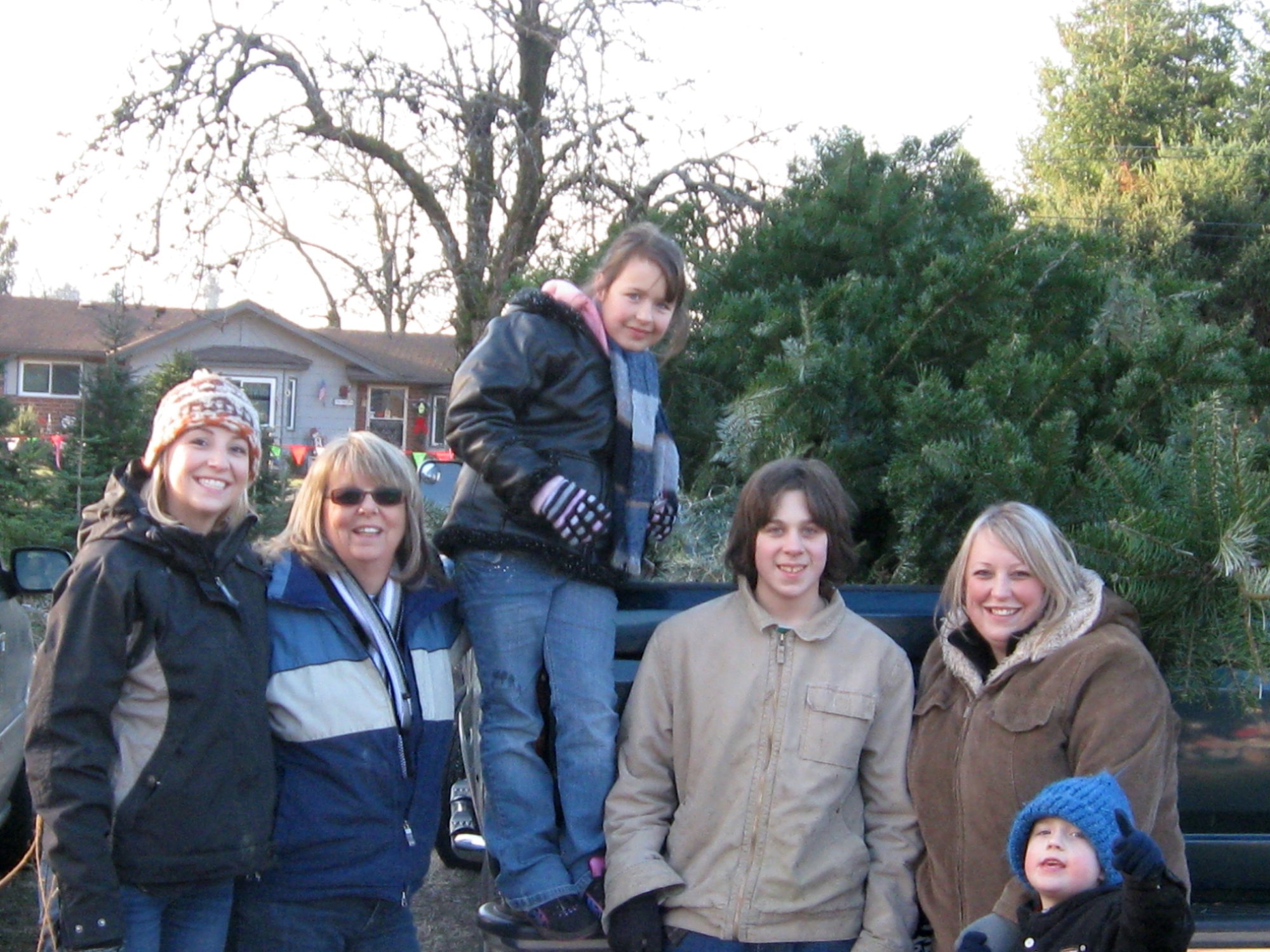 in fresh, fresh trees for Christmas. More big families with big trees!

12/11/09 - Lots of fantastic trees available. Really good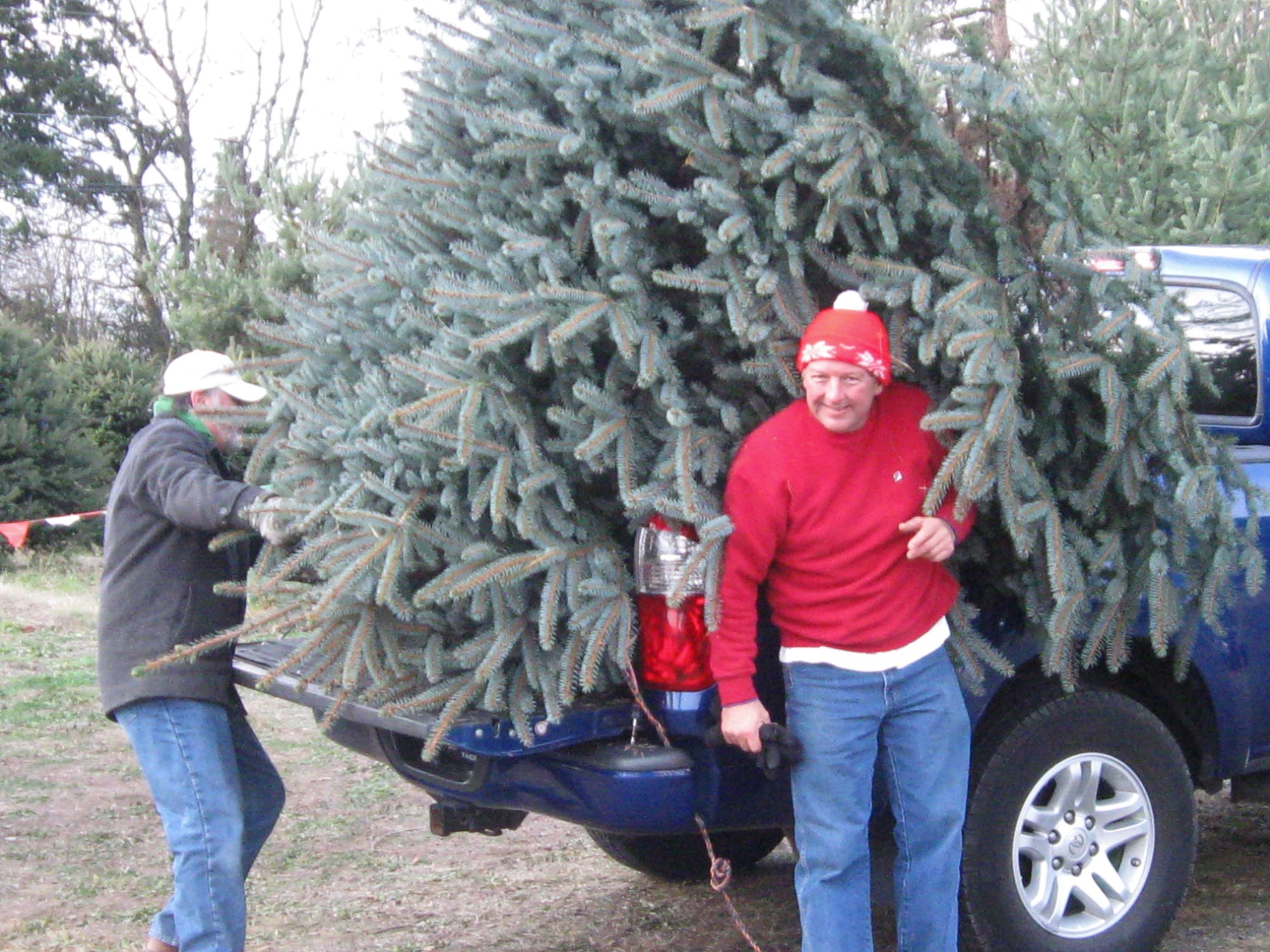 selection of Douglas, and Grand Fir. The pre-cut Nobles look great!

Did I mention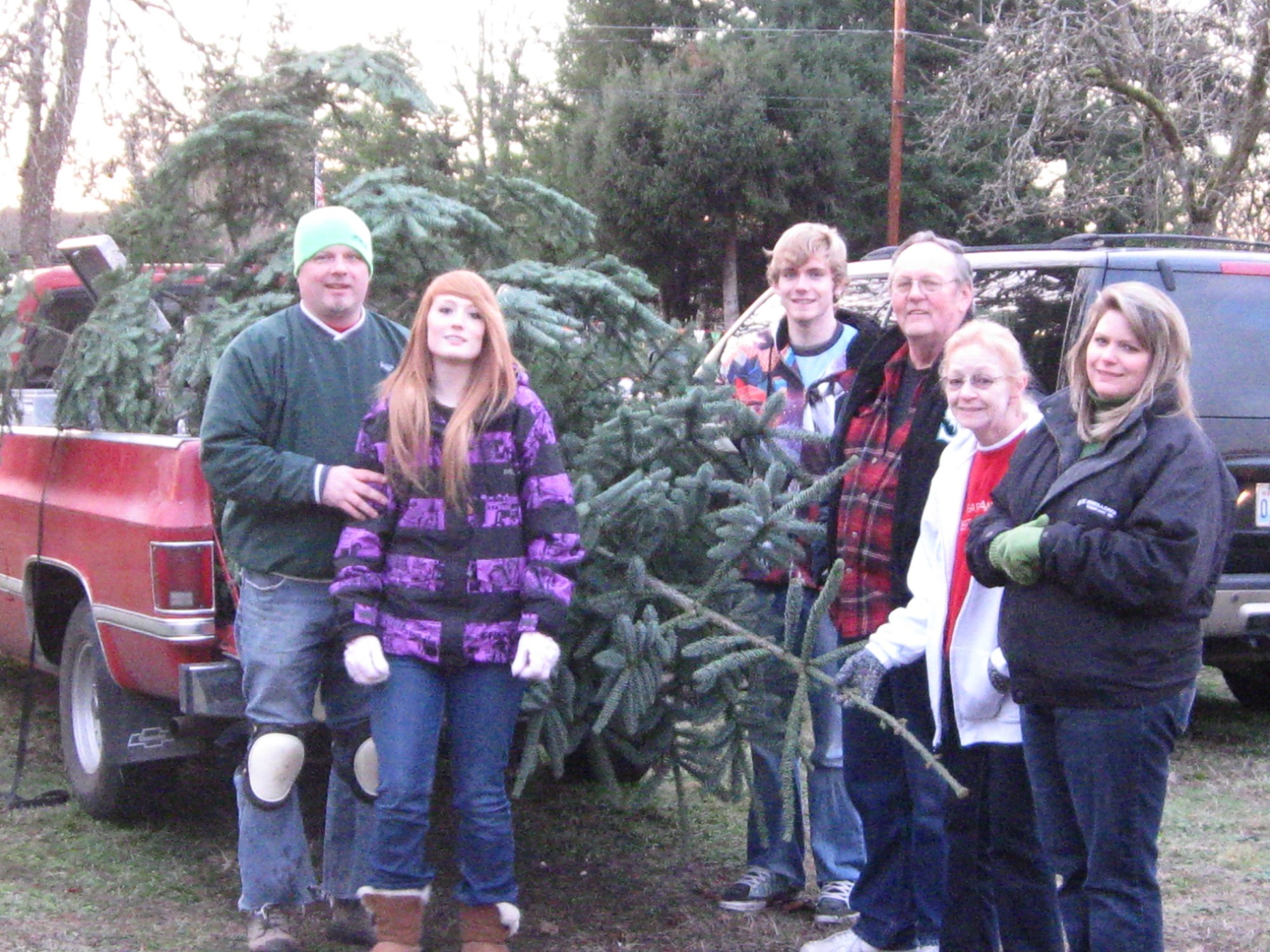 we have really large trees available!
12/4/09 - This picture was taken at 3:30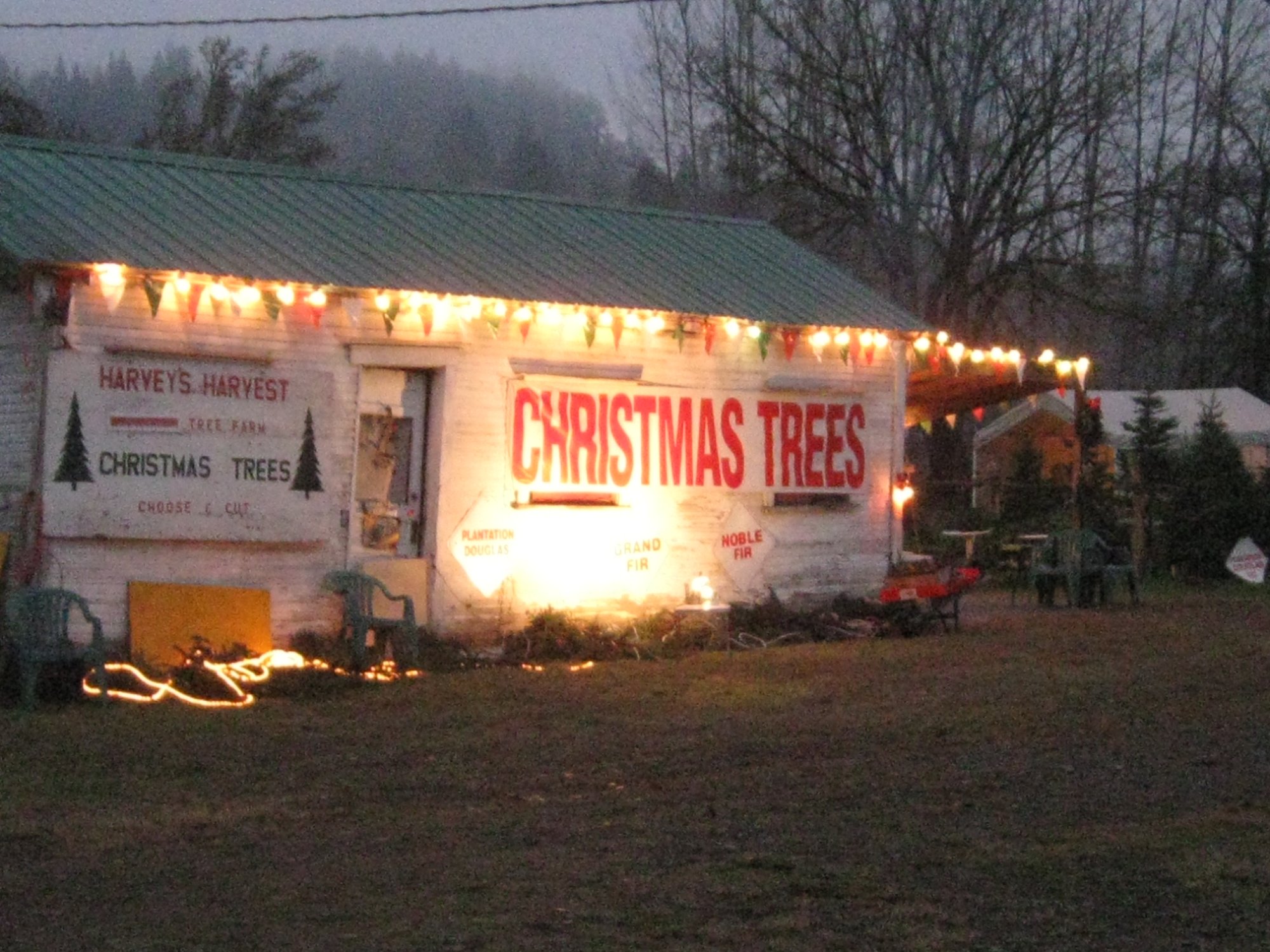 pm so please note that while we are open until 5 pm, you'll be happier if you can make it by 4 pm.
12/2/09 - Beautiful weather for the opening weekend! Lots of folks joined us and enjoyed the sunshine, toasty fire, and hot drinks! You can still prepare by printing your "Identify Your Tree" sheet in advance. We look forward to seeing you.

11/27/09 - Still Raining! You can print your own "Identify Your Tree" chart for easy reference to which trees are where in the field. Remember your boots and gloves and we'll have the hot drinks for you! Beautiful opening day, hope to see you soon.
11/19/09 - It's been raining! Be prepared with your wet weather boots. We'll have the hot chocolate ready for you.