Seasons Greetings

The G
rinch Stole Christmas (trees)!! Really there is a family emergency and we will not be able to open this year. It is a sad day but the good news is we do expect to be
back in 2020. Here's hoping your Holiday Season treats you well!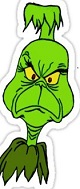 Those
of you who have not yet joined us you may be interested to know that in the 1960's, Steve Harvey, a retired forestry professional and his wife, Vassa, known county-wide for her home-baked cookies, planted Christmas trees on the Irle family farm, just east of Sumner, in the Puyallup Valley. The Harvey's helped start a trend toward friendly family operated small tree farms. From berries, bulbs, rhubarb, fruit, cows, and school teaching, the Irle family now has the 5th generation working in the field.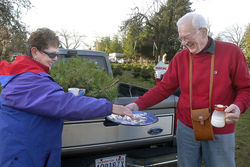 The farm includes a variety of trees: Grand Fir, Turkish (Nordman) Fir, Douglas Fir (the PNW favorite), Noble Fir, Scotch (Scots) Pine, and Colorado Blue Spruce trees.

Our staff give you an orientation to the field and an educational overview of the six variety of trees we offer then send you down the path to get your saw and off to seek the headwaters of Salmon Creek! On your return we offer to bail your tree, provide the twine to secure it to your car, and suggest that the rest of the party relax and enjoy a hot cup of cocoa, spiced cider or coffee around the fire! For further insights to the goings on at the farm you might check out our Farm Fresh News.

For a sneak peak at the fields visit our farm tour page for some YouTube videos!